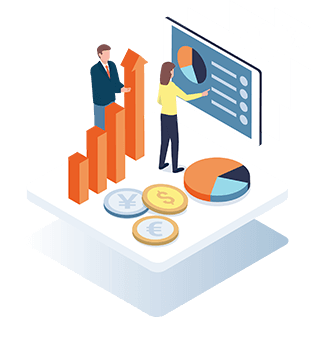 Our philosophy is to develop simple and sustainable solutions, to take the shortest route while respecting our customers constraints and requirements in order to guarantee a quick return on investment.
We focus on :
Sustainable solutions when "tailor-made" is required;
Shorter time-to-market;
Project management focused on our clients business processes and business model.

Commitment
Flexibility
Continuous learning
The Team
Commitment
We are committed to provide quality services and delivering solutions quickly.
We place great emphasis on customer satisfaction. The high profile of our SAP experts is an essential element in order to achieve this goal.
Flexibility
Continuous learning
The Team

S4IC is owned by 13 Partners who are personally involved in every collaboration steps with our clients. They are actively involved from conception to Go Live, throughout pre-sales, coordination, follow-up and realization.
We are winning projects, thanks to the reputation of our S4IC Partners. They are known in the SAP community for their extensive expertise, performance and innovation.
Our team is not limited to 13 Partners. It also includes specialists:
System architecture and project management;
Logistics, financial and human resources modules;
SAP programming.
We have the freedom to select the best consultants. Our dynamism, our philosophy and our methodology are in line with their vision of professionalism. This is why S4IC has a network of loyal and involved SAP experts. The pleasure of working together and a great team spirit lead to excellent results both technically and in terms of deadlines.

The business experience of our SAP specialists is an important added value in an implementation or migration. These specialists understand the language and the business of the users. They are able to advise and design efficient business processes adapted to the company's needs.
Our strength lies in the complementarity of our talents and the stability of our team. We have been working together for over 15 years!
Knowing well the members of the group represents a saving in time and money for our SAP customers. This contributes to the success of our projects because sharing knowledge leads to better results.
At the beginning of 2021, S4IC received the SAP Partner Excellence Award for Top New Partner EMEA North.
Our reward is also the confidence of a growing number of SAP customers in our way of working.
S4IC is a challenger that is gaining ground!

We have:
Set up a flexible and dynamic organization;
Designed and programmed acceleration tools useful for a majority of projects.
S4IC structure:
Favors the implementation of customized solutions;
Allows for shorter than average lead times;
Allows our clients to benefit from a more competitive budget than the market standards.
How can we help you with your SAP project?

Creation of the company as a cooperative. The objective is to gather and represent a maximum of SAP freelancers with at least 15 years of experience. S4IC is essentially focused on the placement of consultants and consulting.
S4IC becomes a reseller of SAP licenses and wins large-scale projects.
S4IC changes its legal form to become a limited liability company in order to comply with its new business model.